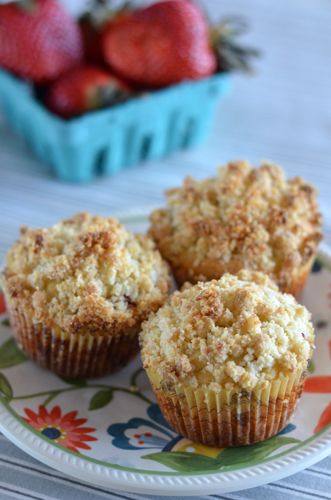 Summer is full of Sunday brunches, family get-togethers, lazy afternoons by the pool, and sweet showers. Whether you're hosting or just attending, I've got the perfect treat for you to bring along.
The muffin recipe below is wonderful for these occasions. It's a simple recipe with good-for-you ingredients and minimal prep time that satisfies even the pickiest eater. Plus, they're gluten-free! You do have to bake them for an hour before they're fresh from the oven, but that 60-minute wait just makes them so much sweeter. They even make a beautiful breakfast when you're rushing out the door on Monday morning!
Gluten-Free Strawberry Crumb Muffins
For the Crumb Topping:
1/2 c blanched almond flour
2 tsp tapioca
Pinch of Kosher salt
3 Tbsp granulated sugar
2 Tbsp unsalted butter, melted
For the Muffins:
3 lg eggs
1 Tbsp unsalted butter, melted & cooled
1-1/2 Tbsp skim milk
1-1/4 c blanched almond flour, packed
1/4 c tapioca
3/4 tsp baking powder
1/2 c granulated sugar
1 c fresh strawberries, chopped
Zest of 1 lemon
Make the crumb topping first by combining all ingredients together in a medium bowl. Stir with a spoon so that the mixture clumps into crumbs; set aside.
Preheat oven to 350 degrees F. Line 9 muffin tins; set aside. In a large bowl, beat together the eggs, butter and milk. Add the remaining muffin ingredients, mixing until just incorporated. Carefully fold in the strawberries, then pour the mixture evenly into the muffin tins.
Place the muffin tin into the oven and bake for 30 minutes. After the first 8 to 10 minutes of baking, pull the tray out slightly and sprinkle the crumb topping over the muffins. (Note: If you try to put the crumbs on when they first go into the oven, they will absorb into the batter). Place back into the oven and bake for an additional 15 minutes, until cooked through and slightly golden. Remove muffins to a wire rack to cool completely.
Adapted from: Real Sustenance
Sweet Wishes!
Jessica