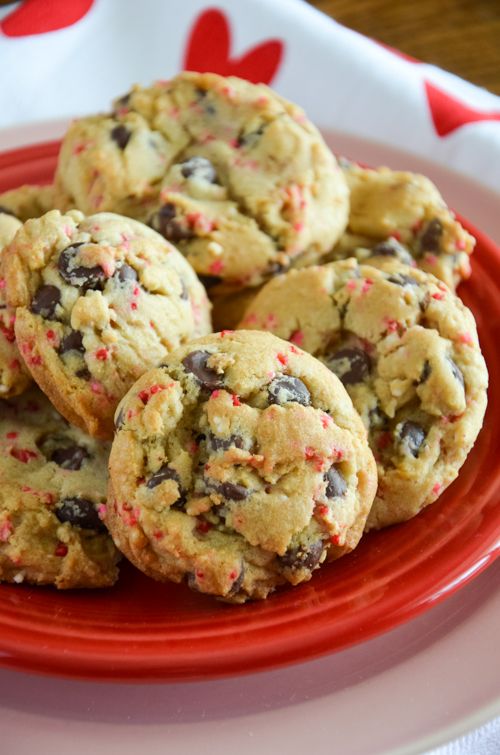 One of my favorite sweet treats is a chocolate chip cookie and the recipe below is one of the absolute best! It produces the perfect two-to-three bite size cookie. The dough freezes extremely well and is wonderful for baking up just a few at a time when you don't want four dozen staring at you from the cookie jar!
I made these to celebrate Valentine's Day, of course, but with the variety of sprinkles available these days, it's easy to switch 'em up to match any occasion… St. Patrick's Day, Fourth of July, Halloween, Christmas, you get the idea!
Sweet Chocolate Chip Cookie Bites
Ingredients
1 1/2 c all-purpose flour
1/2 tsp baking soda
8 Tbsp unsalted butter, at room temperature
1/2 c granulated sugar
1/2 c light brown sugar, packed
1/4 tsp Kosher salt
1 lg egg
1 tsp pure vanilla extract
12 oz semi-sweet chocolate chips
1/4 to 1/2 c sprinkles or jimmies
Directions
Line four baking sheets with parchment; set aside. In a small bowl, whisk together flour and baking soda; set aside. In the bowl of a standing electric mixer fitted with the paddle attachment, cream butter until lemony yellow, about 2 minutes.
Scrape down sides of bowl and add sugar, brown sugar and salt. Continue creaming mixture on medium speed until it is smooth and lump free, about 1 minute. Stop mixer and scrape down sides of bowl.
Add egg and vanilla and beat on low speed for 15 seconds, or until they are fully incorporated. Do not over-beat. Scrape down sides of bowl.
On low speed, add flour mixture in small amounts. Beat slowly until all of the flour is incorporated. Scrape down sides of bowl, adding the chocolate chips and sprinkles and mixing thoroughly. Chill dough for at least 1 hour.
About 15 minutes before pulling dough from the refrigerator, preheat oven to 350 degrees F. Spoon heaping teaspoons of dough 2 inches apart onto baking sheets. Bake one sheet at a time for 12 to 15 minutes, until lightly browned. Remove from heat and transfer cookies to a wire rack to cool. Serve or store in an airtight container for up to 3 days at room temperature.
Adapted from Desserts by the Yard by Sherry Yard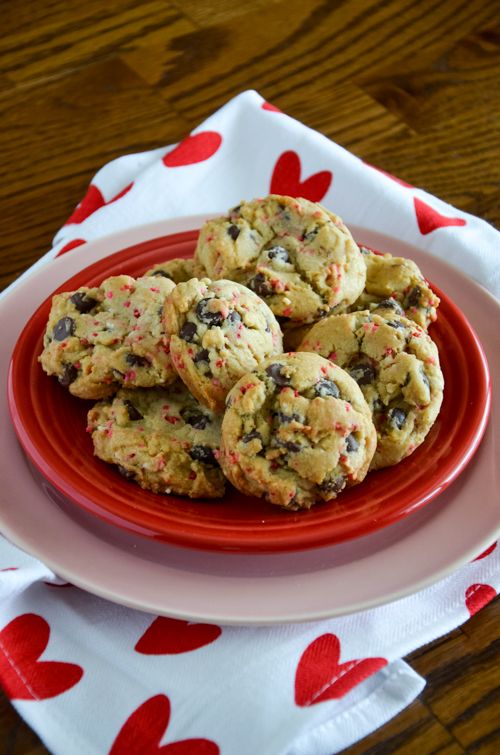 Sweet Wishes!
Jessica